That video was stupid.
Yes Obama is doing the wrong things but that idiot assumed that more spending would be less goods. Didn't the genius ever think that lack of demand isn't because people are satisfied but because they don't have any money to buy things with? If the money supplied increased, people would buy more stuff, that would help the businesses grow. Investments won't. You have to sell shit to someone. If all you have in a business are investments then you're dead. You'll end up with a great big business and no customers.
The recession is not the result of a lack of goods, or a lack of demand. The recession is because of a lack of money and mountains of debt. People need to spend more the government needs to spend less. People can't spend more because they owe money to banks for houses they couldn't afford at prices that were driven up unrealistically high because of years of easy CREDIT not capital.
In Obama's model the Banks make out and the People are screwed. Here is the cash flow.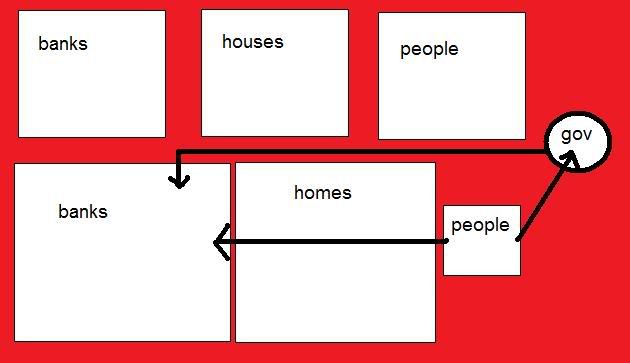 People are in debt to banks so they stop spending money on other things, which make other businesses not responsible for the bogus loans, tank anyway because there are less buyers. In turn they down size and hurt their employees who in turn also spend less because they don't have a job or they have less hours and the cycle continues.
So does Obama give money to the people? NO. He gives it to banks, leaving everyone in the exact situation they were already in with no change other than that housing prices will remain high and the banks now have your money and in order to pay them with money the government didn't have now the government is in deeper debt too and the dollar is falling.
clap clap way to go dumb asses.
The easy solution is like the last minutes of war by deception says. End the wars, stop the bail outs, cut taxes on everyone, the money people can save from tax cuts which are not loans but actual capital will allow people to spend it on the economy or pay off portions of their debt.
I made a little film which is loading right now