As we all know Alexander Litvinenko, was poisoned by polonium a rare radioactive multi-million dollar substance, and it was all blamed on Putin of Russia because Litvineko was a Putin critic.
The poisoning occurred in London. And it just so happened to be while Britain and Russia were on the verge of
negotiating a new extradition treaty
which would allow Russia to nab some of the very well know criminals who are hiding in the UK being protected by the London Money Powers such as the Israeli-Russian Boris Berezovsky, the former oligarch and media owner, and Ahmed Zakayev, the Chechen leader who was arrested in the UK got a 50,000GPB bail paid and then got political asylum.
Aside from the oh so coincidental extradition treaty being negotiated there are many things wrong with the Putin did it story. For one there is no motive, even with Litvinenko being a critic of Russia he was no threat whatsoever to Putin. The man worked with Chechen terrorists and the Israeli-Russian oligarchs. But just assuming that there was a sufficient motive to kill him, think about this: Why would Russia use a very rare, very expensive, and easily traceable radioactive substance to kill him instead of some cheap poison or just shooting him? Why risk smuggling radio active material into the UK which is an act of war?
That is exactly what the US media would have you believe. They want to say that Putin had someone sneak into the UK with polonium and poison Litvineko with it. HA HA what a crock. Well why would the American media side with the man who worked for terrorists and who worked for one of the oligarchs?
Well first off these "Russian" oligarchs are primarily Zionist Israeli-Russians who acquired much of their wealth and techniques from the Israeli Mossad agent
Marc Rich.
Secondly they have business relationships with the Bush administration. The Israeli-Russian Oligarch Khodorkosky had dealing with Cheney, the Carlyle group, and with UNACOL.
Boris Berezovsky is a business partner with none other than President Bush's brother Neil Bush. Boris invests in Neil's Ignite! computer software and Neil Bush met with Boris even after he was a known felon.
A little background. The oligarchs got there wealth mainly from well known rigged auctions under Yeltson. I went over it
here
.
One of the most wealthy oligarchs was Oligarch Khdorkovsky of Yukos oil. He was worth over 15 billion dollars rivaling Roman Abramovich the riches of them all. Khodorkosky was buying votes in the duma. Putin cracked down on the oligarchs forcing many to flee and arresting and throwing Khodorkosky in jail. He
recently just had further charges
placed on him to make his stay in jail all that much longer.
Also note that when they called for the arrest of the Yukos Oligarch Khodorkovsky (dork-o). Russia had the theatre attack where 108 people were gassed. Remember that not a one of the Chechen terrorists were Chechen, they were all mercenaries from private companies in the Israeli controlled areas of Africa. (We know that because the Russians killed them all and got the bodies most of them were from the Sudan none of the 32 people terrorists killed were Chechen.) How interesting is it that the so called Chechen attack their largest to date was caried out by private armies that involved Zero Chechens?!
Look at the Timelne.
On July 8th 2002 Putin cracked down on Khdorkovsky
On October 23, 2002 The Moscow theatre hostage crisis
On July 14, 2003 Khodorkovsky meets with Cheney and then Carlyle
On October 25, 2003, Khodorkovsky was arrested
(On March 20 2003 the US invaded Iraq...)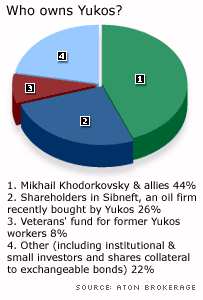 The Asian Times reported "
Quote:
The Khodorkovsky arrest followed an unpublicized meeting earlier that year on July 14, 2003, between Khodorkovsky and Cheney. Following the Cheney meeting, Khodorkovsky began talks with ExxonMobil and ChevronTexaco, Rice's old firm, about taking a major state in Yukos, said to have been between 25% and 40%
"-
Source
Note that Bush holds Stock in UNACOL who he set up in Afghanistan and that Condi Rice was (is?) on the BOD of Chevron-Texaco.
The Washington Post reported "Days before his October 2003 arrest on tax fraud charges, Khodorkovsky had entertained George H W Bush, the representative of the powerful and secretive Washington Carlyle Group in Moscow. They were discussing the final details of the US oil company share buy-in of Yukos. ...
Yukos had also just made a bid to acquire rival Sibneft from Boris Berezovsky, another Yeltsin-era oligarch. YukosSibneft, with 19.5 billion barrels of oil and gas, would then own the second-largest oil and gas reserves in the world after ExxonMobil. ...
YukosSibneft would be the fourth-largest in the world in terms of production, pumping 2.3 million barrels of crude oil a day. The Exxon or Chevron buy-up of YukosSibneft would have been a literal energy coup d'etat. Cheney knew it; Bush knew it; Khodorkovsky knew it.
Above all, Putin knew it and moved decisively to block it. ..."-
link
Boris Berezovsky just so happens to be the Israeli-Russian oligarch who lives in London who Litvineko worked for. Here is the grand prize. After the US and UK press branded Putin with the poisoning despite there being Zero evidence, (something the US is very well known for now) investigators were tracking down the traces of polonium in the UK. They
detected
traces of Polonium at Berezovsky's office and residence! Now I do not know about you but in my place of work and certainly in my house I do not rare radio active substances. It is not something you just get at the market or pick up by accident walking through the park.
Later more traces were found on the
planes
that Litvineko had been on. So I think we can deduce what happened. The Israeli crony was smuggling in radio active polonuim into the UK (dirty bomb?) and got an overdose. That is going to look pretty bad because it is not a normal way to die and I think the most over looked and scary part of this story is that someone could get that stuff into the UK unnoticed! Invesitgators were going to trace it back to the culprits so what did they do? They blamed Putin and said that he was trying to poison them. Yegor Gaidar (the Prime Minister of Russia during the mass looting by the Oligarchs who is also dual citizen with Israel) had his daughter claim that he too might have been poisoned. That turned out to be BS. They need some way of explaining why this nasty junk seems to follow them around and why one of their henchmen dropped dead from it.
The only question is did Litvinenko die from exposure or was he killed because he had plans to double cross the oligarchs. Well he may or may not have had such plans and I saw that planted int the alternative media. But that does not make sense. The oligarchs could have just as easily killed him in a hundred different ways which would have cost less and not have been so traceable or use such a difficult substance. So I lean toward him just getting an overdose. Of course, I do remember which country killed thousands of its own people by radiation poisoning under the guile of a fake ringworm test, and that was Israel. I know where all of these oligarchs have their loyalties and how they were tied into the Mossad. I know who loves to use false flags and and already got into the Hariri case. And now we have the case of Ardeshir Hassanpour the nuclear scientist from Iran who was a target of the Mossad and recently died from radiation poisoning. Somebody is sending a signal out to people to let them know that hey we have nukes, and we can sneak radioactive meterial into your country. AKA we can hit you with DU and a variety of other nasty things, (possibly a dirty nuke) so do what we say.
Notice how this story which like the Anthrax story had a mass media blitz and then suddenly dropped off the face of the earth.
Do you smell what I smell? The fascist state of Israel..
Short answer: Russian Oligarch Boris Beresovsky employee Alexander Litvinenko died from over exposure to Polonium in a botched smuggling operation for Israel. That is why traces of it were at Boris's house and on the planes Litvinenko was riding to and from Israel. The smear on Putin/Russia using a highly traceable 10 million dollar poison to kill a critic is about as plausible and rational as saying we have "British Intelligence" about Niger.... This transparent bogus lie was a quick and shamelessly sloppy explanation to cover up how and why this man in the UK had a radio active poison in his body.
More over this is not the first time that Berezovsky tried to pin a murder on someone else and claim that all the damning evidence pointing to him was a frame. There are the notorious cases (in Russia) of
Vlad Listyev
and Ivan Listskevich.
Omsk oil Refinery