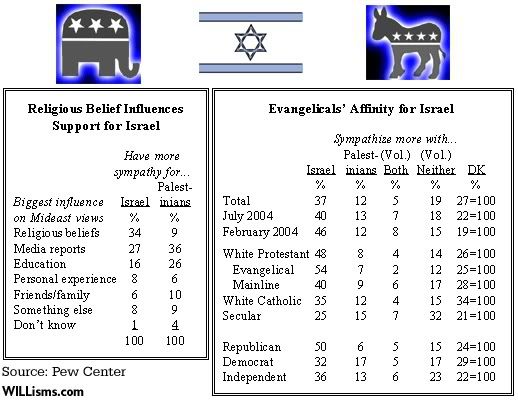 funding (another source):
http://www.fas.org/man/crs/IB85066.pdf
--------------
(some Christian groups)
http://www.c4israel.org/
http://christianactionforisrael.org/czionism.html
The Bible commands us to pray for the peace of Jerusalem (Psalm
122:6), to speak out for Zion's sake (Isaiah 62:1) to be watchmen on
the walls of Jerusalem (Isaiah 62:6) and to bless the Jewish people
(Genesis 12:3). These and so many other verses of the Bible have one
overriding message – as Christians we have a Biblical obligation to
defend Israel and the Jewish people in their time of need.
http://christianactionforisrael.org/
Charitable Aid
Private donations to American charities initially constituted one
quarter of Israel's budget. Today, it is estimated that these
tax-deductible donations exceed $1.5 billion per year. The ability of
Americans to make what amounts to tax deductible contributions to a
foreign government does not exist for any other country.
http://www.palestinemonitor.org/factshe ... Israel.htm
In return Israel rewards x-tain's this way,
Desecration of Christian property and churches—arson, window breaking,
burning of the New Testament—had long marred relations between the two communities. A small but fanatical group of Jews wanted no Christians, whom they considered fallen Jews, in Israel. This virulent strain of prejudice had been present since before the Jewish state was founded.
http://www.ifamericansknew.org/history/ ... tians.html
Worst offenders:
-Baptist aka "born again" aka "evangelicals"
-Church of Christ
-Catholic
Didnt find Methodist as a singlar %