My alex jones video has down played numbers
http://www.rumormillnews.com/cgi-bin/forum.cgi
Oct 24 my video on rumor mills alone has 3304 views.
However the youtube insight listed it on my channel as a mere 118. And the embed player as only 1,502 a total of 1,620 This was 4 days ago so it has had more than enough time. Likewise I know people have watched in on here because they have replied to it yet rys2sense isn't even listed.
WRH was at 1,500 but it's always way more than that. The total on the alex video is only 8008 as of Oct 28 japan time 1am. The recent robinhood spoof and other vids from the past few days which float at 2 to 3k from WRH without being on the top as the alex one was for a time. The less controversial how they bleep you vid got 35k for example from WRH. And about 20k from the dailypaul. WRH can sometimes even make this site freeze up or crash and we can more than handle 2k extra hits in a day we do that every day.
Youtube freezes all my vids at 300 then 800 and after a couple a days starts to count hits AFTER major linkers have moved on. I witness this as I am on a 13 hour time zone different from the east coast US in japan and I release my vids on purpose at night here to be on in the morning for US news. A commenter also noticed the 300 mark and posted that on 2 vids. The past 4 videos or so are all over 1900 and yet I know it was really more than that. They are lying about the numbers.
My other name can get 2k easily just from this site and my facebook without any special links.
There is over 554 comments on the
Alex Jones Town video
. The ratio of comments to views is always much larger. I have in the past even had more comments than views which is impossible. Other videos in the thousands will only have about roughly 40 to 80 comments. Yet this one at 8k has almost 600 comments.
Just 118!

1,502 here but that does not add up to 3304 and that is only counting those who discovered the video through that rumor mil link on Oct 24 it's not even on the main page anymore.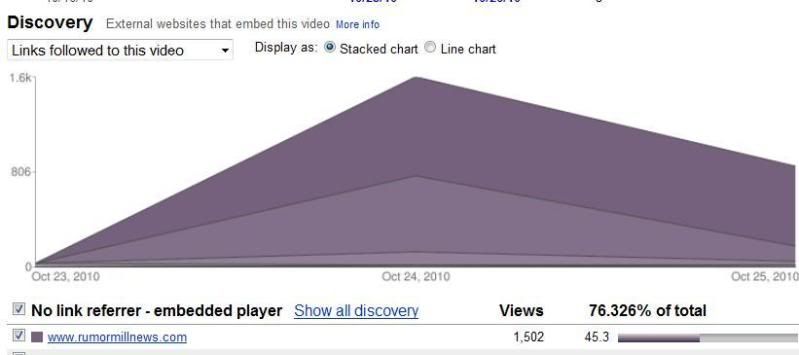 Here it is 3307 (The extra 3 were probably me getting screen shots for this blog post.)
Fuck Youtube. And they wouldn't allow the best parts of war by deception 2010 or war by way of deception 2008 at all.
I find it more than strange that this site was down on 9/11 as well. Just means we are doing something right.
There is no way vids can climb to 300 in minutes and then just peter out at a thousand and change. The one time I asked for donations I have people from all over the worlds sending me things, letters or money or both. I even ran into a stranger 2 days ago in Oji Japan who knew me and that's for videos in English! That could have been a weird chance thing sure. But I do not trust youtube. Their own numbers do not add up.