If you don't know, Cape Hatteras Island has had its beaches closed because of some "environmental" extremest. We've got a bill in place to reverse this and re-open the beaches and end agenda 21 style take over. My family already personally lost enough land to the government just for being Native Americans. Now we've lost it again because of a federal Judge. . Millions have already been lost. Who visits an Island when they can't go to the beach? Just Imagine if the beaches were closed in Hawaii, (over a bird) what would happen to the economy. Or any other Island. Well that's exactly what has happened here. From May to October, basically all the summer months our beaches are closed to the public, that's driving or walking. You can't be on the beach at all. Our Island is falling apart.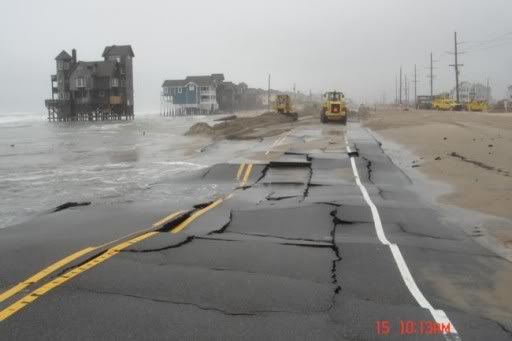 That's our main road.
The senates office called me again today. I'm going back to DC to go clean up the county government's mess. The last time I was there I got a bill introduced and Co-sponsored by both parties. Let me tell you why this exciting for you. If I get the beaches re-opened, I could very well be a shoe in to become congressmen Dawson in the next eletion. If you want to stick it to neocons/zionist, this is a way to do it. For where I live there is one issue and one issue only and that is re-opening our beaches. Help me with this and I swear this is very possible. I could be sitting in DC with Ron Paul.
I need everyone to call these people and tell them to
support S1557 to re-open beaches in North Carolina
that an activist Republican judge closed by decree. If you are from one of these states or know someone who is then you must call. Tell them this issue will determine how you vote.
I think of all the members on the list the most likely to help us maybe Bernard Sanders (202) 224-5141.
So far we have two cosponsors for the bill and 9 more promised votes. That 11 of the 51 we need. If we can get it voted on by this committee it has a very very good chance of passing.
We have to make it clear that it is not a partisan issue. Last time they just voted right down party lines, AKA no one even read it.
Some ammo to use: Senator Hagan (D) and Senator Burr (R) have already co-sponsored the bill so it is not a partisan issue. Hundreds of animals are being murdered by the National Park Service in order to protect less that 5 bird eggs. More over an Island has lost access to its beach and is losing millions of dollars in lost tourism. We've also been culturally castrated by losing our own beach that we grew up with and has been open to the public since the Park Service was created. It is America's oldest Nation Seashore. It's utter insanity to close a beach on an Island. This is the last thing we need in the middle of a recession and we are not going to make it through another lost season.
Chairman Jeff Bingaman (NM) (202) 224-5521
Byron L. Dorgan (ND) (202) 224-2551
Ron Wyden (OR) (202) 224-5244
Tim Johnson (SD) (202) 224-5842
Mary L. Landrieu (LA) (202) 224-5824
Maria Cantwell (WA) (202) 224-3441
Robert Menendez (NJ) (202) 224-4744
Blanche Lincoln (AR) (202) 224-4843
Bernard Sanders (I) (VT) (202) 224-5141
Evan Bayh (IN) (202) 224-5623
Debbie Stabenow (MI) (202) 224-4822
Mark Udall (CO) (202) 224-5941
Jeanne Shaheen (NH) (202) 224-2841
The Park Service is out there murdering animals
This is them shooting a fox on the beach in front of children.
My explination of what is happening and the legal, scientific, and economic stupidities.
Hear the voice of the people of North Carolina!
I appreciate the help from WRH readers and anyone else. We have a real chance here to make tremendous change. Flood the phone lines. Do it as much as you can. I will re-link this again the day I am there to make sure that we blast the phones the entire time I am there.