This was arson. You notice the half burnt sign there which used to read "no trespassing" well that sign was over on the hill and someone uprooted it and put it there next to the building. Also I deduced the points of origins of the fire one was in the corner probably in the book drop or possibly under the porch. Also I found a tag.
I left Fessenden at 9:28pm Friday night and locked the door. The only people left were the guys that play pool there every Friday in the other room.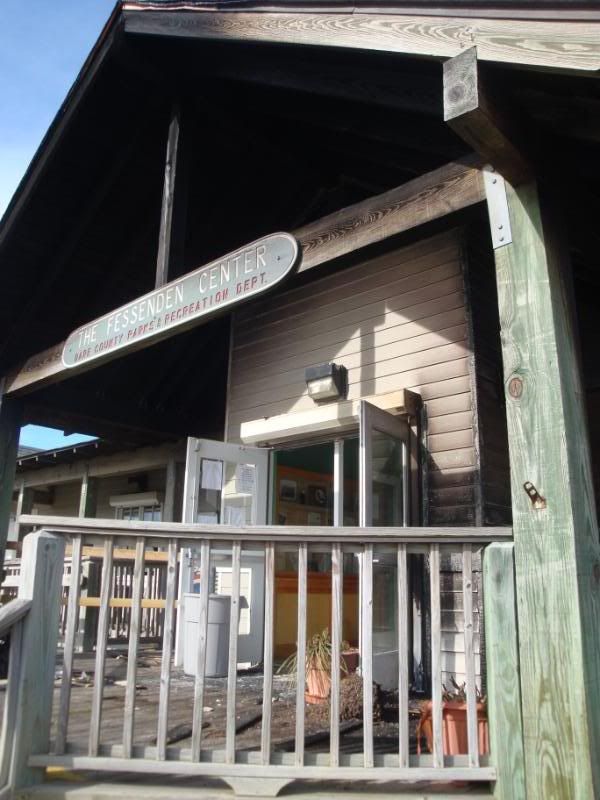 The walls were all white thus the top stripe of black is from smoke. Yet the whole porch burned. Thus a fire was set under the porch and burned up and as the wood lit it fell. The other was in the back stall of the men's room and that smoke went up the vent and window.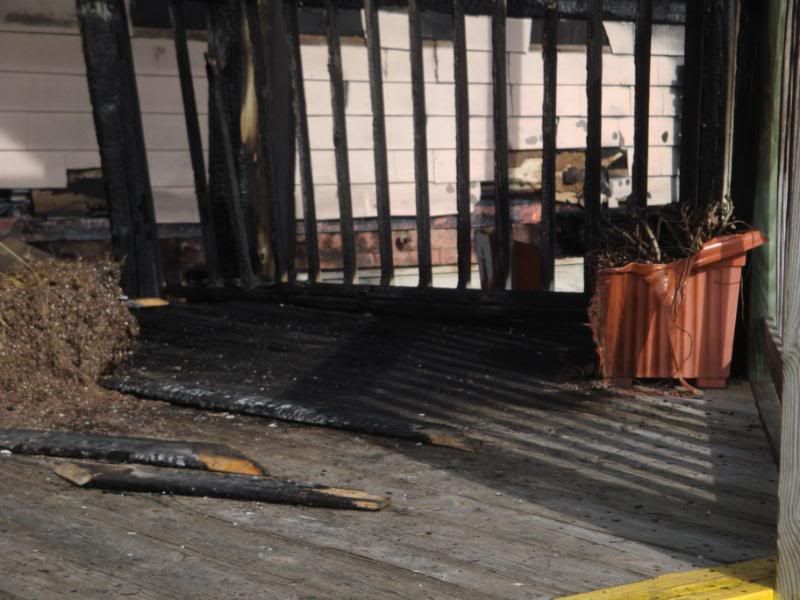 I don't have photos from the inside but the entire men's bathroom was totaled. At the time when I went in (with permission) I didn't have a camera. By the time I went and got mine and returned the inside was roped off. I'm pretty sure I know who did this and I found a show print next to where the sign had been and witnesses down Old Lighthouse road heard "wooting" around 1:30am.
Possible tag
This could also have been older but I haven't seen it and I'm at Fessenden three times a week minimal. So far no one from my team recognizes it either and they're all there the same number of nights.
Same week several cars were broken into and vandalized including my little brother and his girlfriend's. The fire happened early Saturday morning.
Crime in Hatteras is usually zero. But as economies sink more and more people turn to crime. Parents stress out and children act more violently as well.
We have suspects in mind. You know who burns a community center? I guarantee the cops and fire marshals are too lazy to investigate so they will blame it on a cigarette or something. This was not a cigarette. The building was wet. I was there until past 9pm. A cigarette will not light a porch on fire, it just isn't hot enough. Much less a bathroom inside. And a cigarette doesn't pick up a no trespassing sign and move it either. That was their way of saying yeah we did it and screw you.
I say they because this was more than one person. Some of the guys saw some teens circling in late at night on bikes. The center is normally closed. We only had a class there because it was move form Thursday due to Thanksgiving. Might some Buxton trash be one upping the "rebals" up in Avon? The cops have refused to finger print at any of the last three crime scenes that I am aware of and there could be more. A trailer was vandalized, several cars broken into and Island Perks Restaurant was broken into too, although the evidence around that seem to point another direction, still there is coincidental timing, so it's worth noting. Cars from Tower Circle and Cape Hatteras Motel have been broken into and vandalized. All the crimes are happening with in a biking distance of Old Light House Road.
Won't be hard to see who was staying at whose house that Friday because that is normally how these things go down. Plus some idiot will probably brag. I bet I know who did it with in 3 days.
Oh and once again the "journalism" over at
Islandfreepress
is as lazy and wrong as ever. They took one photo and then just seemed to write on assumptions. They wrote "
Though the interior of the building was not damaged, there is enough residual smoke to keep the center closed for several days and maybe up to a week
." OK That is complete BULL. The entire men's bathroom INSIDE was completely wrecked. Installation from the walls on the floor, stall, window, wall, vent, roof, all destroyed. So the interior of the building was damaged. And this was by the fire not water. These things were burned.
Still that's not as bad of reporting as when I went to Washington and lobbied the senate for a bill to re-open the Beach since Jones's bill had sat there for over a year with no hearing. It was also to get a bipartisan bill introduced cosponsored by both parties and both senators and it worked. And they reported that the county had done it. That was untrue. Warren met me the day after I got back to ask me what had been done. They had not been up there since November 2008 and did not return until just a couple months ago, and it was to the house both times not the senate. The Senators I talked to aside from Burr, didn't even know anything was happening. We could get a hearing if I went back but I don't have the money. Send Gary "I'm related to Bassnight and get paid 80k a year" to go do it since it really is his official job.
Anyway thank goodness the firemen know how to respond. Our politicians, media, and police are totally worthless.
PS free Jujitsu lessons for cops.